Rixx Natural Herbal Lotion
ABOUT
What is Rixx Lotion?
Rixx lotion is a uniquely formulated blend of 20 natural ingredients that have been hand-picked due to their ability to support maximum relief from sore muscles and inflammation. Rixx lotion also aids in improving skin tones and keeping your skin moisturized…naturally.
This topical cream – which is available in 8 oz. bottles – is safe, non-greasy and natural. Thousands of people have been using Rixx lotion since the mid 1960s to ease any discomfort caused by inflamed muscles and joints, with the added benefit of moisturizing. So why not join them today?
What Makes Rixx Special...
Hyaluronic Acid
We call hyaluronic acid the unsung hero of Rixx lotion because of its many benefits. It is a substance that is normally produced by the human body to attract and bind water at the cellular level, but needs to be augmented over the age of 50. For seniors, Hyaluronic together with witch hazel has many applications. As a facial lotion, it helps with the anti-aging process and tightens the skin for a more youthful look. Dr Oz has recommended Vitamin C and Hyaluronic, and we have found that witch hazel and Hyaluronic acid combination has produced excellent rejuvenation results for users as well. In addition, Rixx Lotion includes aloe vera as a natural penetrant for more lasting results.
Witch Hazel
The high concentrations of tannins in witch hazel are what make it an excellent ingredient for Rixx lotion. Witch hazel has been proven to be successful in the treatment of insect bites, stings, itching, irritations and minor pain caused by inflammation. When applied to the skin, witch hazel may reduce swelling, repair broken or inflamed skin, and fight bacteria. The unique combination of witch hazel and Aloe Vera found in Rixx Lotion penetrates deep, even into the bone, assisting from the inside out.
Aloe Vera
Aloe Vera is derived from a succulent plant species that was hand-selected for Rixx lotion because of its rejuvenating, soothing, and penetrating properties. It is the unique penetrating properties that drive the witch hazel and other vitamins and oils, including hempseed oil, deeper into the tissues and allow the body to do what it does best – heal itself. Aloe Vera is most effective at soothing and softening chaffed, dry or inflamed skin conditions such as sunburns, psoriasis, eczema, and other inflammatory disorders of the skin. It was the marriage of witch hazel and Aloe Vera that inspired us to reintroduce Rixx Lotion in the 21st Century as a natural herbal lotion.
Omega 3 from Hempseed Oil
Hemp Seed Oil contains Omega 3 and 6 essential fatty acids as well as cannibadoil. The highly beneficial balance of Omega 3 and Omega 6 essential fatty acids, nutrients which help to regulate immune system health and mood enhancement, also work in the reduction of inflammation. People suffering from conditions such as rheumatoid arthritis, neck or back pain have seen great results while using omega 3 substances. Athletes who put extra stress on their joints and muscles have found help to rejuvenate and maintain their body by using Hemp seed oil before and after rigorous sports events. Rixx Lotion provides a synergistic combination for this use in sports and for a healthy daily life.
Comfrey
Comfrey is a shrub that grows as high as 5 feet tall with colorful blooms. The leaves and roots have been used for healing for over 2000 years in Japan, and it was a standard preparation in the Roman Empire to get the wounded soldiers back into action quickly. An earlier name for it was "knitbone. " Comfrey is a natural substance that possesses beneficial properties. It includes anti-inflammatory compounds and allantoin, a substance that can speed up the wound-healing by stimulating the growth of new cells. Allantoin also protects the skin. When liberally applied to the skin, comfrey has the ability to reduce inflammation and alleviate pain caused by a variety of health conditions and injuries including bruises, abrasions, muscle sprains, dryness and irritated skin.
Essential Oils
The proprietary blend of essential oils is known for enhancing a calming mood to the body and mind. Men, women and children report the clean, fresh totally unique wafting, light scent of Rixx Lotion to be uplifting, soothing and inspiring.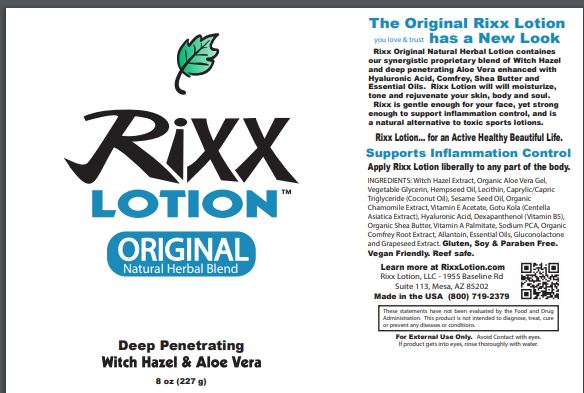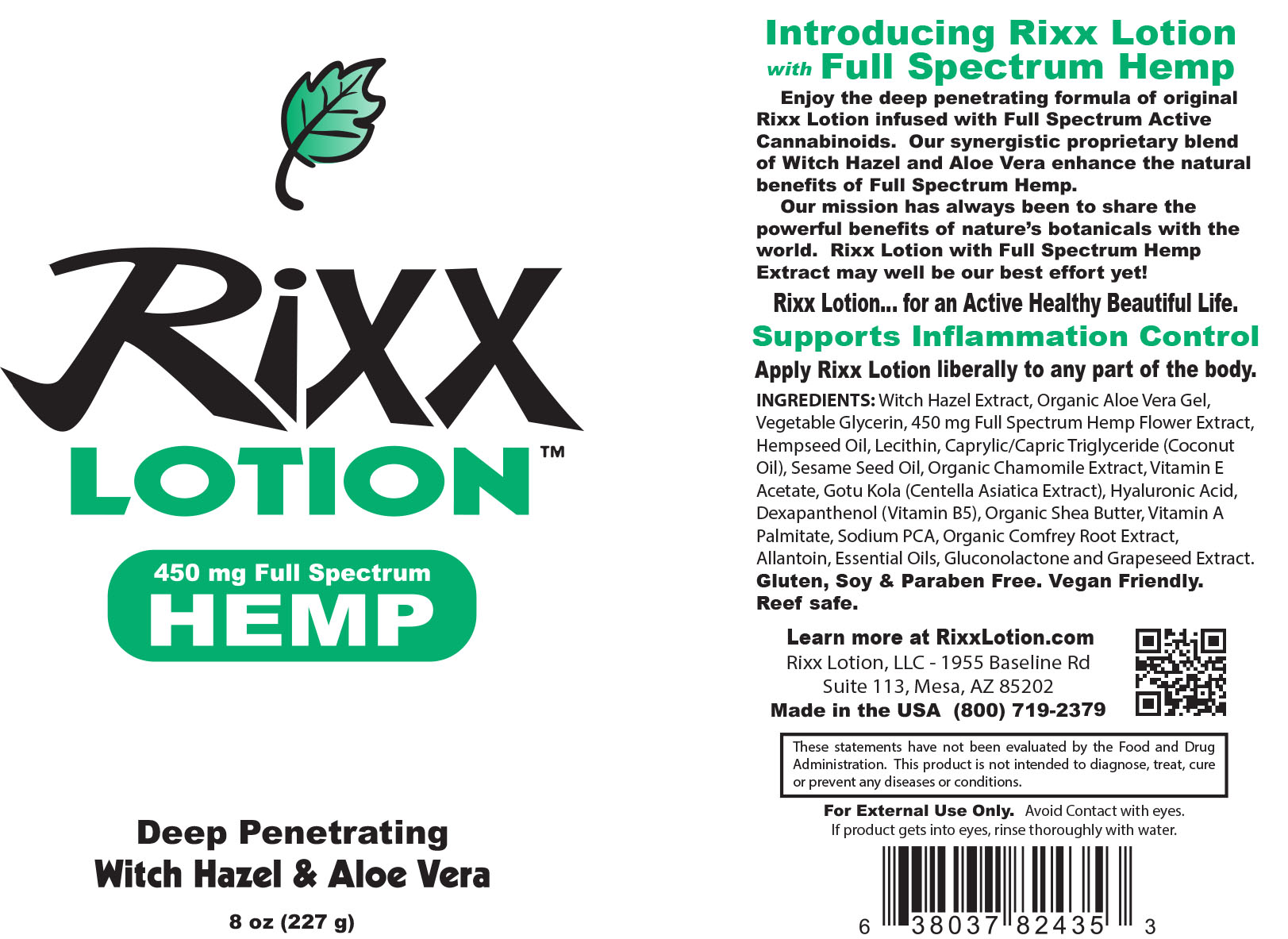 Full List of Ingredients
Witch Hazel Extract, Aloe vera Gel, Vegetable Glycerin, Hempseed Oil, Lecithin, Caprylic/Capric triglyceride, Sesame Seed Oil, Chamomile Extract, Vitamin E Acetate, Centella Asiatica Extract, Hyaluronic Acid, Dexapanthenol (Vitamin B5), Shea Butter, Vitamin A Palmitate, Sodium PCA, Comfrey root Extract, Allantoin, Essential oils, Gluconolactone and Grapeseed Extract. Gluten, soy, and paraben free. Vegan friendly. Reef safe.
These statements have not been evaluated by the Food and Drug Administration.
This product is not intended to diagnose, treat, cure or prevent any disease.
Available At Your Favorite Online Retailers Here!
Claim Your FREE Guide
FIVE HEALING STRATEGIES
TO REDUCE INFLAMMATION
& receive special discounts and educational health resources!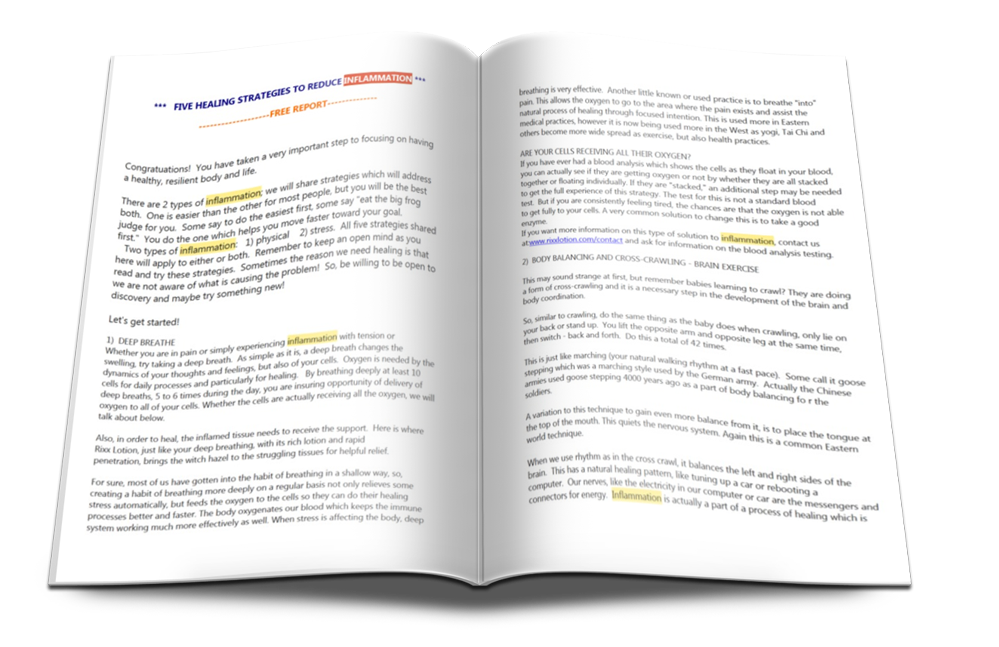 2 reviews on
This lotion is non-greasy, quick-absorbing and wonderful at tackling dry skin! I was pleasantly surprised by the results and happy to find a great product with quality ingredients.
Briana Lara-Lowe
2017-10-07
Rixx Lotion is not just any ordinary lotion. It is truly one of a kind. I call it my "miracle lotion" and I cannot recommend it highly enough. I was lucky enough to discover Rixx Lotion about 4 years ago when I was shopping at Healthy Habit. I was looking for anything that would help the horrible Lupus Butterfly Rash on my face. I was desperate. I had tried everything from steroid creams to at least 20 other over the counter lotions, without any success, when I finally found Rixx. From the very first time I put it on I felt instant relief. It was cooling and calmed my burning, irritated skin immediately. And huge bonus...within a day the awful rash that I had suffered from for over a year was noticeably less red and within about a week after I started using Rixx it was completely gone! This lotion truly changed my life for the better. I still use it every single day under my make up and before bed. Thanks to this amazing lotion my rash has never returned! It also helps relieve pain from muscle aches that are another symptom of Lupus. My mom uses it daily to help with her arthritis and my son loves to get his "Rixx Lotion massages" every night. It is the perfect lotion for the whole family!!